Trainworx Announces Custom Trucks Based On N Scale Modelers' Prototype Trucks
Pat Sanders of Trainworx announces six new truck paint schemes. Pat wrote in his email announcing the models: "You might be surprised to know how many N scale model railroaders have trucking backgrounds and there are some trucks that have been an important part of their lives. It has been my pleasure to work with some of these modelers to bring their trucks to N Scale. I hope that you will enjoy these models and the stories behind them." Pre-orders are due December 31, 2016 with delivery expected in the third quarter of 2017. You can also download a colored flyer for these trucks.

This 1956 Peterbilt 351 logger (above) was owned by Wesley LaVern (Vern) Henderson of Pendleton, Oregon. It had a 220 Cummins with 3x5 transmission. It received many paint jobs in its life; this is the final Vern Henderson paint scheme.
"I got to ride in this truck as a boy every once in a while, though my mom thought it was always too dangerous... some of my best memories of growing up. I distinctly remember my dad shifting the 'Brownie' gears with both hands and steering with his knee! Dad would have been proud to see his old truck as a model. He loved collecting 1:18 die cast 'old cars'--I have most of his collection of those still." (Gary Henderson)

This 1973 Kenworth K100 was owned by John Zwergel.  It was set up with a 350 Cummins, 4.33 rears and Dayton wheels.
"I always had the Dayton wheels. I hauled mostly steel and watermelons and was usually overweight.  I found the best tire for me was Michelin. Running in the south, the roads could get really hot and with Michelins I never blew a tire.  This is stirring memories from probably the best time in my life." (John Zwergel)
This custom heavy haul Peterbilt was owned by John Patten.
"The edited truth!! This custom heavy-haul Peterbilt owned John Patten! This yellow truck was my last 'Pete'. The drive-train was a CAT engine (well tuned) in front of a 6x4 transmission on a 300 inch wheelbase. Lots of heavy-haul power!!" (John Patten)

Mike Sabia from New Jersey owned this custom KW with 3406 CAT engine. "ON MY STEEL HORSE I RIDE" is on the back of the sleeper. These are lyrics from (Bon Jovi, Wanted Dead or Alive). Wanted Dead or alive? There must be more to this story, but Mike won't say.
"If you notice, it says "SECRET WEAPON" on the sleeper (my CB handle). NO PROBLEM! The reason I put that on the bug shield is I was a big fan of the comedy ALF in the '80's. If you remember, that was ALF's saying for everything. I also had a stuffed ALF doll hanging in the passenger side window." (Mike Sabia)
This 1997 Peterbilt was specified for light weight with the highest horsepower possible and maximum longevity. The truck was owned and operated by Camionnette, Ltd. (camionnette, is a French word for little truck) which was a small fleet of tractor trailers, owned by Sandy and Kris Smith, hauling dry bulk Portland cement and other commodities.
"A Caterpillar C-13 (electronic 3306 engine) was used with a light weight 13 speed transmission and lighter weight drive line components all to save weight and increase payload.  A "Day Bunk" 36 inch sleeper was specified along with smaller fuel tanks, and aluminum components from the front bumper to the cab. The weight savings added up to over 5000 pounds compared to a truck bought two years earlier. The smaller engine and lighter empty weight yielded 1 mile per gallon fuel economy over it's bigger brother with a Cat C-15 (3406) engine. The greater payload made this truck a financial winner even if it arrived at the concrete plant 10 minutes after its sister truck with the larger engine. The truck accumulated over 980,000 miles prior to being sold and with no major engine repairs required and a rust free cab and frame structure." (Sandy Smith)
This beautiful 2001 blue Peterbilt 379 was bought new by Mark Morris in 2000. It is powered by a CAT 6NZ C15 engine. Custom work on the truck was performed by Truck Rods, part of Peterbilt of Joplin Missouri.
"Should never have traded it. The new owner has over 1 million miles on it. He keeps the truck in a heated barn during the winter." (Mark Morris)
These models will be strictly built to order so getting your pre-orders in before the due date of December 31, 2016 is critical if you want one or more of these models! Delivery is expected in the third quarter of 2017.
2016 N Scale Vehicle of the Year Awards

The winners of the N Scale Vehicle Association's Twelfth Annual N Scale Vehicle of the Year Awards were announced Saturday, July 2, 2016 during the evening banquet at the National N Scale Convention in Overland Park, KS. The winner in the assembled and decorated model category was the Trainworx Peterbilt 379 with 52-ft Merritt cattle trailer, AKA the "Bull Hauler."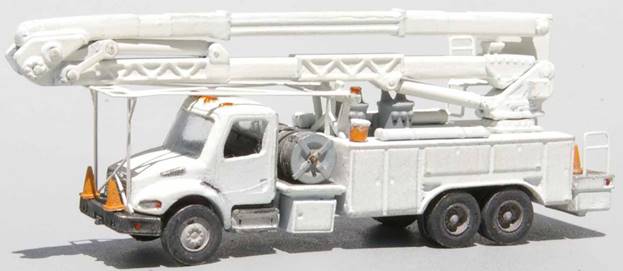 The winner in the model kit category was the Showcase Miniatures Freightliner M2 Business Class utility truck.
Both Trainworx (the entire Sanders family) and Showcase Miniatures (Walter and Debbie Vail) had display tables at the convention and were able to receive their award certificates in person! We congratulate both recipients!
Trainworx Releases New Limited Run Models for the Fourth of July 2016


Trainworx #51021 Kenworth K100 VIT 200 with WP Bicentennial trailer


Trainworx #59027 Kenworth W900 VIT 200 with N&W Bicentennial trailer
Pat Sanders of Trainworx is wishing America a Happy 240th Birthday with the release of two Bicentennial tractor-trailer sets. One set is a Kenworth K100 VIT 200 with one of the Western Pacific Bicentennial trailers. The other set is a Kenworth W900 VIT 200 with N&W Bicentennial trailer NWZ 1776.
The prototypes for the Kenworth limited edition Bicentennial trucks were the first tractors equipped with the new for 1976 raised-roof Aerodyne sleepers. The VIT stood for Very Important Trucker, and the 200 reflected the production was limited to 200 trucks. And in keeping with the authenticity and accuracy of these prototypes, the Trainworx models are also limited edition, with only 200 of each model produced!
You can see more of these colorful models on the Trainworx YouTube Channel.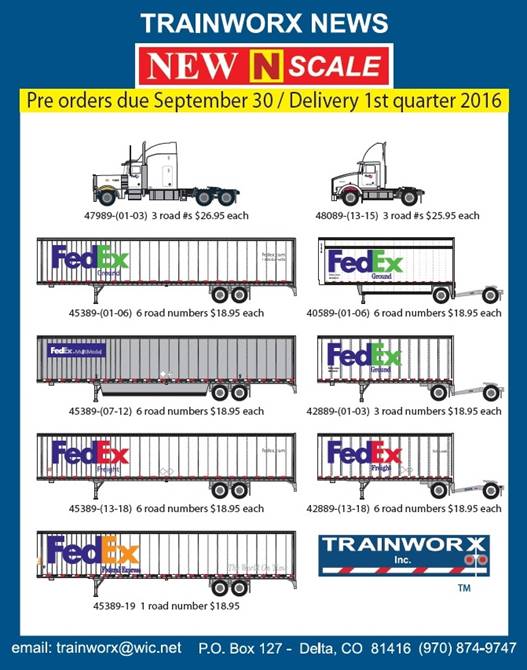 Pat Sanders of Trainworx continues to work overtime getting new vehicle announcements cranked out. Just announced are Peterbilt 379 truck tractor in FedEx Ground and Kenworth T800 truck tractor in FedEx Freight paint schemes along with seven paint schemes coming for the 53-foot and 28-foot trailers.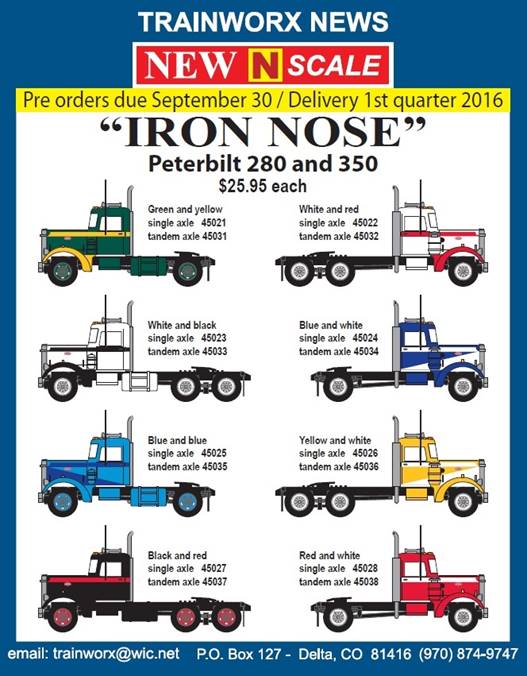 But that's not all that's new! The "Iron Nose" Peterbilt 250 and 380 truck tractors has also been announced. This is not the same tractor that was used for the Duel movie truck! You may view or download the color flyers at these links:
http://www.train-worx.com/15-8fedex.pdf
http://www.train-worx.com/15-8pete350.pdf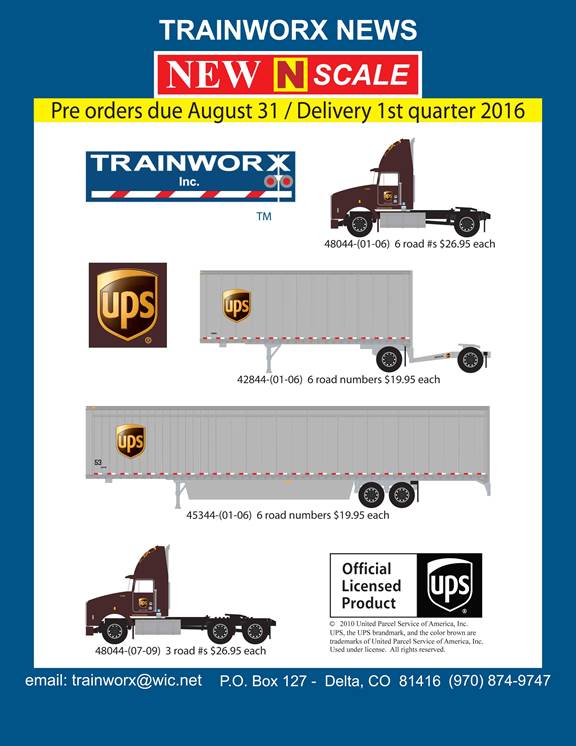 Pat Sanders of Trainworx has been really working overtime on all the new N scale truck and trailer models and has just announced the next release. This is the first release in which the tractors and trailers may be purchased separately. The tractors are contemporary Kenworth T800 day cabs that UPS has been purchasing for its growing fleet of alternate fuel vehicles. The 28-ft pup trailers are based on Great Dane flat floor trailers that UPS purchased in 2003. The 53-ft trailers are based on the large fleet of UPS Stoughton flat floor trailers. Very impressive new lineup of models from Trainworx!
2015 N Scale Vehicle of the Year Awards
The winners of the N Scale Vehicle Association's Eleventh Annual N Scale Vehicle of the Year Awards were announced June 27 during evening banquet at the National N Scale Convention in Sacramento, CA. Those attending the convention had the opportunity to vote for one assembled and decorated N scale vehicle model and one N scale vehicle model assembled from a kit. The winner in the assembled and decorated model category was the Rietze Mercedes-Benz Sprinter ambulance and the winner in the kit category was the N-Scale Kits Flexi-van auto carrier trailer.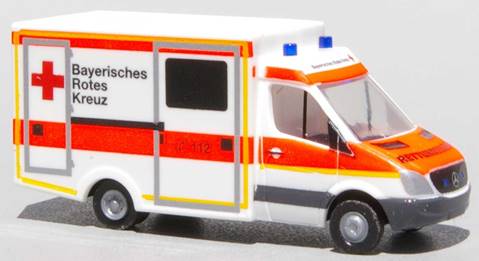 Rietze Mercedes-Benz Sprinter ambulance


N-Scale Kits Flexi-van auto carrier trailer
In addition to the models selected by popular vote, the N Scale Vehicle Association awarded its first Excellence 'N' Innovation Award to Trainworx for the five tractor/trailers released in paint schemes from movies and television shows in which the truck was an essential element of the plot.





Outstanding New Tractor-Trailer Models From Trainworx
Pat Sanders of Trainworx has announced five new tractor-trailer models based on movies and TV shows shown above. Based on these photos these are going to be outstanding models and adds sorely need North American prototype variety to N scale layouts and collections! From top to bottom:
#59094 - Kenworth W900 with a 40-ft reefer decorated as the truck in Smokey and the Bandit

#55195 is a Peterbilt 281/351 with 33-ft tank trailer decorated as the truck in Duel

#51096 - Kenworth K100 with 40-ft reefer decorated as the truck in BJ and the Bear

#59097 - Kenworth W900 with 40-ft dry van decorated as the truck in Movin' On

#57998 - Peterbilt 379 with 53-ft reefer decorated as the truck in Transformers (Optimus Prime)
The prototype Peterbilt 281/351 went into production around 1954 and the Peterbilt 379 was produced up until 2007. Pat should get a lot of mileage from these trucks!  Pat also told us that if you like the photos, "wait 'til you look under the hoods". [posted 06/16/2015]

Introducing Proto Photo Files
We're proud to introduce a new feature to our web site, Proto Photo Files. You will find links to Proto Photo Files under our Resources link in the left column menu. Our first Proto Photo File subject is a Caterpillar crawler and logging arch very similar to our 2013 Model of The Year winner, the GHQ Models' pewter kit. Be sure and check it out! [posted 01/03/2014]

Photo Gallery 3
We are very pleased to present Photo Gallery 3. As we build our collection of extraordinary examples N scale vehicle modeling we ask you to send your photographic contributions to be included in our future Photo Galleries. Our feature photo above is from Markus Schiavo. Markus built this tow truck from a Wiking Mercedes-Benz L 10000 ten-wheeler. Check out the details in Photo Gallery 3. [posted 12/02/2013]
What We're Doing Here
We are working diligently to bring together the first world class resource for vehicle modelers in N scale! Our goal is to deliver to you informative and timely updates on the following:
Industry News

&

Developments In Our Scale

New Product Announcements

Vehicle Of The Year Award Winners

N Scale Resources

Where To Buy

How To Articles

Photo Gallery
We are definitely a work in progress and have only begun our journey to building a world class resource for N scale vehicle modelers. We hope you become a participant and contributor to our web site and enjoy sharing the work of modelers from around the world.
Who We Are
N Scale Vehicle Association was formed to promote the modeling and collecting of 1:160 scale model vehicles. N scale is a model railroading scale that uses 9 mm gauge track, which is commonly referred to as N gauge. In North America and most of Europe, 1:160 scale model railroad equipment that represents standard gauge prototype equipment operates on 9 mm gauge track.
The first public activity of the N Scale Vehicle Association was the facilitation of the voting for the N Scale Vehicle of the Year Awards at the National N Scale Convention* held in San Diego, California. In the years following the 2005 convention in San Diego, voting for the N Scale Vehicle of the Year Awards has been an annual event at the conventions, and has grown in popularity with the manufacturers, as well as the modelers of N scale model railroad equipment.
Watch these pages as we progress! Check back often.
Contact: info@nscalevehicles.org
---