Trainworx Releases New Limited Run Models for the Fourth of July 


Trainworx #51021 Kenworth K100 VIT 200 with WP Bicentennial trailer


Trainworx #59027 Kenworth W900 VIT 200 with N&W Bicentennial trailer
Pat Sanders of Trainworx is wishing America a Happy 240th Birthday with the release of two Bicentennial tractor-trailer sets. One set is a Kenworth K100 VIT 200 with one of the Western Pacific Bicentennial trailers. The other set is a Kenworth W900 VIT 200 with N&W Bicentennial trailer NWZ 1776.
The prototypes for the Kenworth limited edition Bicentennial trucks were the first tractors equipped with the new for 1976 raised-roof Aerodyne sleepers. The VIT stood for Very Important Trucker, and the 200 reflected the production was limited to 200 trucks. And in keeping with the authenticity and accuracy of these prototypes, the Trainworx models are also limited edition, with only 200 of each model produced!
You can see more of these colorful models on the Trainworx YouTube Channel.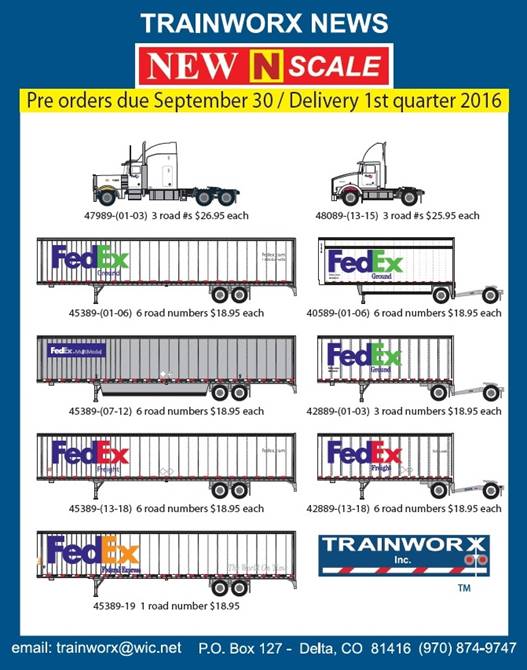 Pat Sanders of Trainworx continues to work overtime getting new vehicle announcements cranked out. Just announced are Peterbilt 379 truck tractor in FedEx Ground and Kenworth T800 truck tractor in FedEx Freight paint schemes along with seven paint schemes coming for the 53-foot and 28-foot trailers.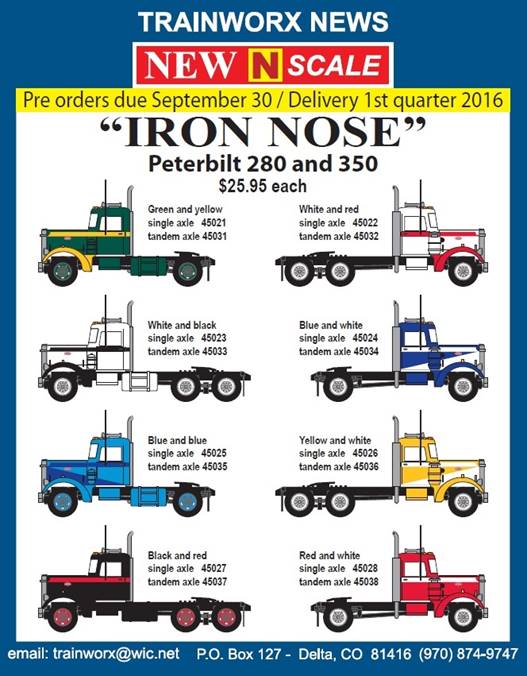 But that's not all that's new! The "Iron Nose" Peterbilt 250 and 380 truck tractors has also been announced. This is not the same tractor that was used for the Duel movie truck! You may view or download the color flyers at these links:
http://www.train-worx.com/15-8fedex.pdf
http://www.train-worx.com/15-8pete350.pdf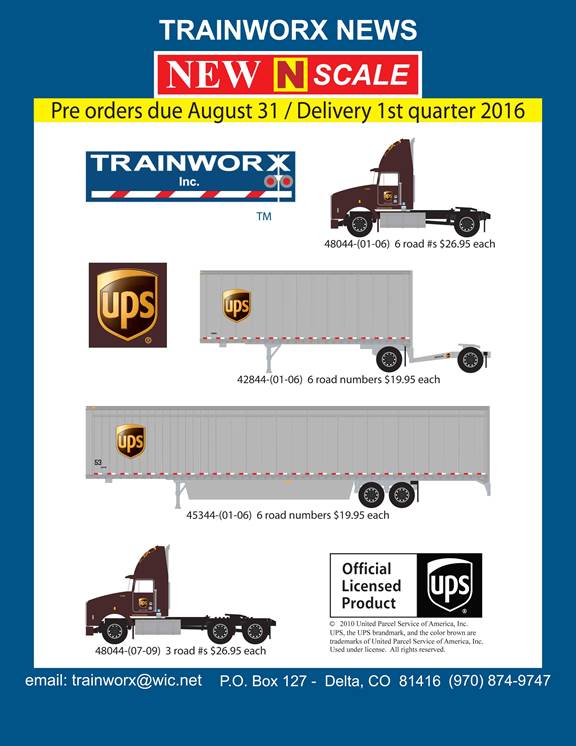 Pat Sanders of Trainworx has been really working overtime on all the new N scale truck and trailer models and has just announced the next release. This is the first release in which the tractors and trailers may be purchased separately. The tractors are contemporary Kenworth T800 day cabs that UPS has been purchasing for its growing fleet of alternate fuel vehicles. The 28-ft pup trailers are based on Great Dane flat floor trailers that UPS purchased in 2003. The 53-ft trailers are based on the large fleet of UPS Stoughton flat floor trailers. Very impressive new lineup of models from Trainworx!
2015 N Scale Vehicle of the Year Awards
The winners of the N Scale Vehicle Association's Eleventh Annual N Scale Vehicle of the Year Awards were announced June 27 during evening banquet at the National N Scale Convention in Sacramento, CA. Those attending the convention had the opportunity to vote for one assembled and decorated N scale vehicle model and one N scale vehicle model assembled from a kit. The winner in the assembled and decorated model category was the Rietze Mercedes-Benz Sprinter ambulance and the winner in the kit category was the N-Scale Kits Flexi-van auto carrier trailer.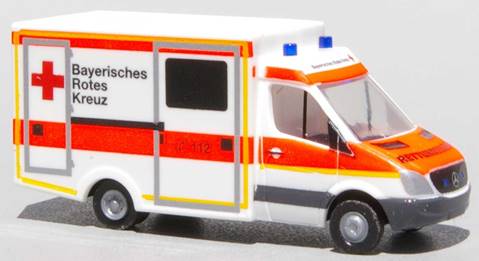 Rietze Mercedes-Benz Sprinter ambulance


N-Scale Kits Flexi-van auto carrier trailer
In addition to the models selected by popular vote, the N Scale Vehicle Association awarded its first Excellence 'N' Innovation Award to Trainworx for the five tractor/trailers released in paint schemes from movies and television shows in which the truck was an essential element of the plot.





Outstanding New Tractor-Trailer Models From Trainworx
Pat Sanders of Trainworx has announced five new tractor-trailer models based on movies and TV shows shown above. Based on these photos these are going to be outstanding models and adds sorely need North American prototype variety to N scale layouts and collections! From top to bottom:
#59094 - Kenworth W900 with a 40-ft reefer decorated as the truck in Smokey and the Bandit

#55195 is a Peterbilt 281/351 with 33-ft tank trailer decorated as the truck in Duel

#51096 - Kenworth K100 with 40-ft reefer decorated as the truck in BJ and the Bear

#59097 - Kenworth W900 with 40-ft dry van decorated as the truck in Movin' On

#57998 - Peterbilt 379 with 53-ft reefer decorated as the truck in Transformers (Optimus Prime)
The prototype Peterbilt 281/351 went into production around 1954 and the Peterbilt 379 was produced up until 2007. Pat should get a lot of mileage from these trucks!  Pat also told us that if you like the photos, "wait 'til you look under the hoods". [posted 06/16/2015]

Introducing Proto Photo Files
We're proud to introduce a new feature to our web site, Proto Photo Files. You will find links to Proto Photo Files under our Resources link in the left column menu. Our first Proto Photo File subject is a Caterpillar crawler and logging arch very similar to our 2013 Model of The Year winner, the GHQ Models' pewter kit. Be sure and check it out! [posted 01/03/2014]

Photo Gallery 3
We are very pleased to present Photo Gallery 3. As we build our collection of extraordinary examples N scale vehicle modeling we ask you to send your photographic contributions to be included in our future Photo Galleries. Our feature photo above is from Markus Schiavo. Markus built this tow truck from a Wiking Mercedes-Benz L 10000 ten-wheeler. Check out the details in Photo Gallery 3. [posted 12/02/2013]
What We're Doing Here
We are working diligently to bring together the first world class resource for vehicle modelers in N scale! Our goal is to deliver to you informative and timely updates on the following:
Industry News

&

Developments In Our Scale

New Product Announcements

Vehicle Of The Year Award Winners

N Scale Resources

Where To Buy

How To Articles

Photo Gallery
We are definitely a work in progress and have only begun our journey to building a world class resource for N scale vehicle modelers. We hope you become a participant and contributor to our web site and enjoy sharing the work of modelers from around the world.
Who We Are
N Scale Vehicle Association was formed to promote the modeling and collecting of 1:160 scale model vehicles. N scale is a model railroading scale that uses 9 mm gauge track, which is commonly referred to as N gauge. In North America and most of Europe, 1:160 scale model railroad equipment that represents standard gauge prototype equipment operates on 9 mm gauge track. 
The first public activity of the N Scale Vehicle Association was the facilitation of the voting for the N Scale Vehicle of the Year Awards at the National N Scale Convention* held in San Diego, California. In the years following the 2005 convention in San Diego, voting for the N Scale Vehicle of the Year Awards has been an annual event at the conventions, and has grown in popularity with the manufacturers, as well as the modelers of N scale model railroad equipment. 
Watch these pages as we progress! Check back often.
Contact: info@nscalevehicles.org
---