Industry News
Trainworx Opens Reservations for the Freightliner Cascadia
October 10, 2017
Pat Sanders announced today that advance reservations are now open for the Freightliner Cascadia. Pat also added that "the Cascadia is the most prevalent modern class 8 highway tractor today."  The prototype was announced in May of 2007, with the first trucks rolling off the production lines in August of 2007.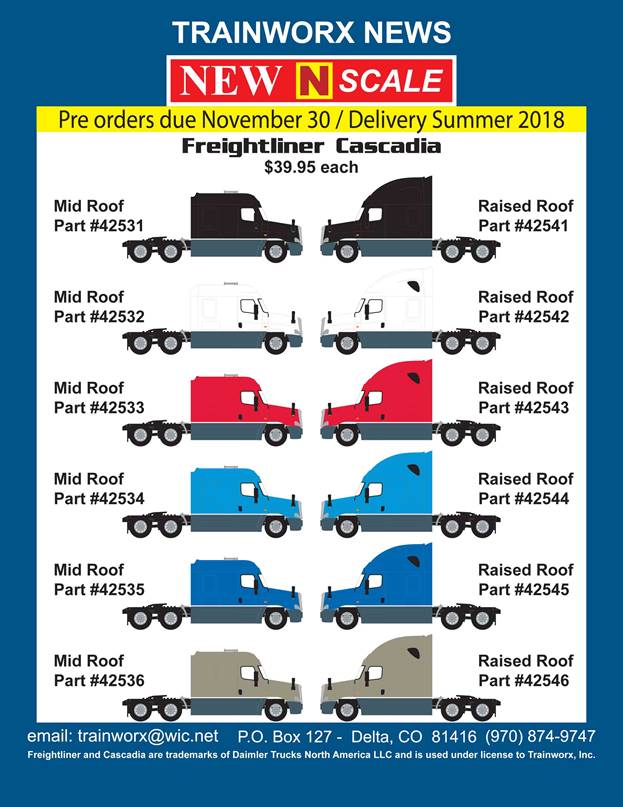 Click here to download the pdf version of the color flyer.
Also available for reservation are more 53-foot trailers to go with these new tractors.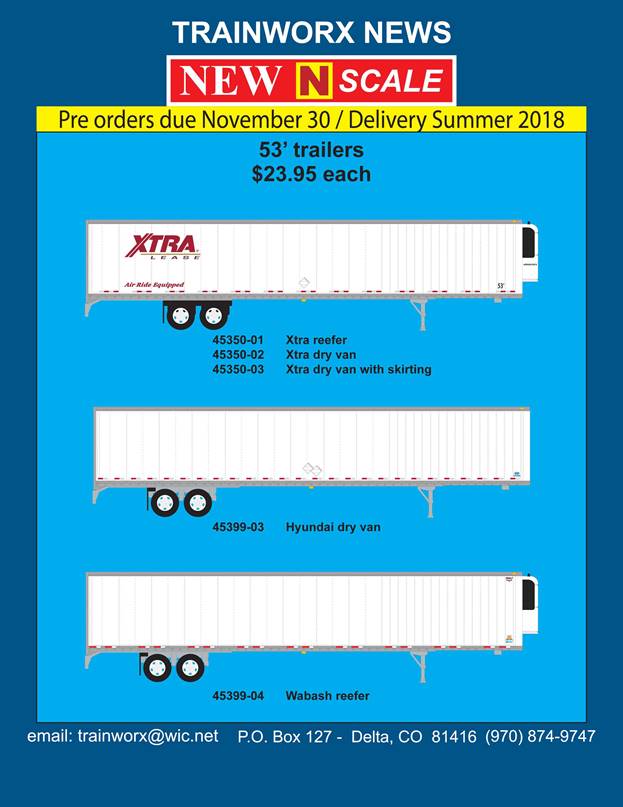 Click here to download the pdf version of the color flyer.
Jahn 3D announces new models
September 7, 2017
We received an email from Jens Jahn announcing a half dozen new 3D printed N scale models.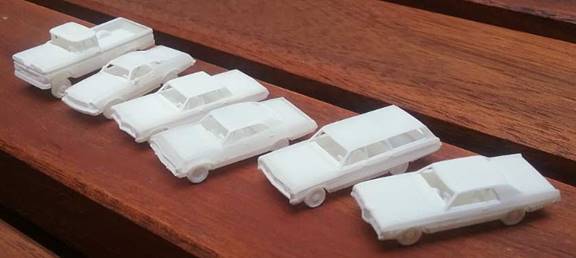 Pictured above from left to right are, a 1961 Chevy C-10 pickup, a 1975 Chevy Chevelle coupe, a mid-1960s New Yorker sedan, a 1967 Chevy Impala sedan, a mid-1960s Newport station wagon and a 1972 Ford LTD coupe.  More information can be found on the Jahn 3D website.
Trainworx announces the Legends of the Road Series
August 7, 2017
Pat Sanders of Trainworx has announced the first releases in the Legends of the Road Series.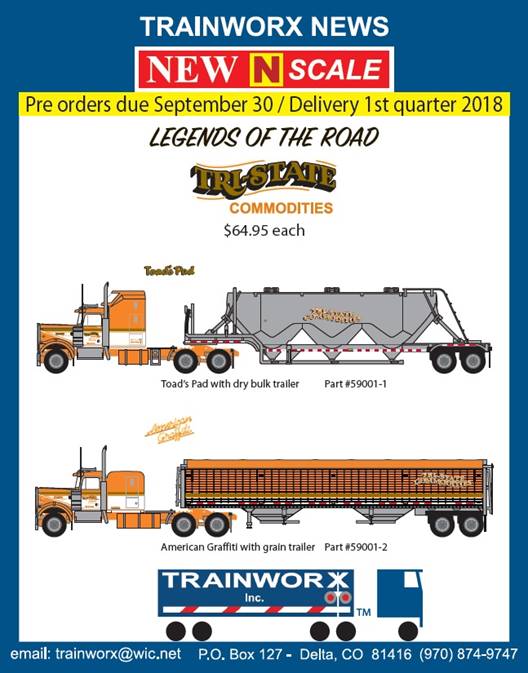 And rather than summarize the announcement, here is the complete text from Pat:
"LEGENDS OF THE ROAD"

Tri-State Commodities believes that customers deserve on time quality service, and dong this takes the right people and the right equipment.

Jack Shupe started Tri-State Commodities of Greely, Colorado in 1971. Jack's sons Gregg and Grant are part owners and have been with the company since high school in the late 70s. Gregg and Grant's wives and children work at the Shupe family owned and operated business. Many of the Tri State drivers have been making on time deliveries for the company for decades and have their names painted on the door of the trucks they drive.

Tri State has a fleet of nearly 50 trucks and none of them are new, (you won't see any DEF at this facility). They were pulling a W900a into the shop for an oil change while I was there and it had high door handles which puts it into the 1960s to very early 1970s vintage. The shop is a busy place building trucks from the frame up and keeping the fleet in top condition. The fleet is comprised of roughly 96% Kenworth W900s, (saw a Pete 379 there and another 379 was on the road). All of the Tri State trucks are set up to get deliveries done on time with big power coming from Cat or Cummins. These trucks all have personality and even have individual names on the back of the cab or sleeper. Greg Shupe has custom built and restored 6 different A model W900s.

"Toads Pad" started out as a 1982 W900A. Greg stretched the frame and added a smooth riding air suspension. Power was upgraded to a 525 horse N14 Cummins and a Roadranger 18 speed transmission. A new Aerodyne sleeper was coupled to the original cab so that modern air ride cab suspension could be utilized underneath. A custom new Burgundy interior was added to the inside of the cab and sleeper. The truck is finished in a custom orange and white Midnight Sun paint job with lots of chrome, graphics and pin striping.

"American Graffiti" is another early '80s W900A. Greg also custom built and restored this truck from the frame up in the Tri State shop. Power comes from a 525 hp N14 Cummins and is transferred through a 15 speed Roadranger transmission. The original 60" flat top sleeper was coupled to the cab and a cab air suspension was added as well as a new sound deadening interior for driver comfort. The familiar Tri State custom Midnight Sun paint scheme was applied as well as graphics and pin stripping. Greg finished the truck with new chrome stacks, bumper and air cleaners.

Both of these trucks are show trucks but you won't find them at a show; these are daily drivers and the best place to find them is on the road. It is my pleasure to recognize the Shupe family and the men and women at Tri State Commodities by bringing to N scale these "LEGENDS OF THE ROAD".

Trainworx is pleased to announce to N scale
Toads Pad with Dry bulk trailer #25
American Graffiti with grain trailer #213

Please see the color flyer for details at the following link:

http://www.train-worx.com/17-8tristate.pdf
Trainworx Custom Trucks Have Arrived!
July 25, 2017
Pat Sanders announced this morning that five of the six Custom Trucks models that are based on the real trucks that were owned by N scale model railroaders are ready for shipping!  Unfortunately, there were some productions issues with the Sandy Smith Peterbilt 379, so the release of that model has been delayed.
However, we were able to get a good look at the trucks that have been released!

Vern Henderson's 1956 Peterbilt 351 logger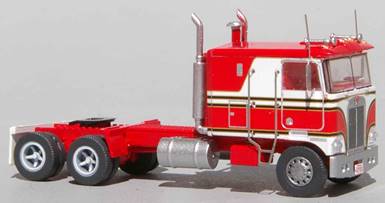 John Zwergel's 1973 Kenworth K100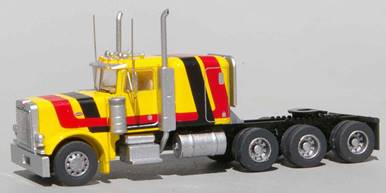 John Patten's Peterbilt 379 heavy haul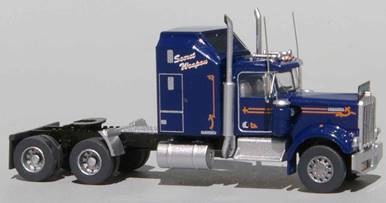 Mike Sabia's Kenworth W900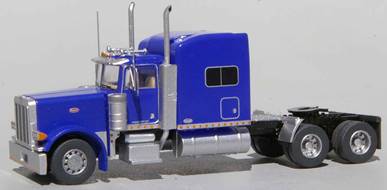 Mark Morris' 2000 Peterbilt 379
We sure hope you were able to pre-order one or more of these trucks, because they are going fast!
Trainworx Announces Fancy Graphics on Some Great Trucks From The 1970s
July 5, 2017
Pat Sanders of Trainworx has announced the Kenworth W900a will be released in the Seminole paint scheme. The trucks will be available in six different color combinations and three sleeper configurations. The Seminole paint scheme is Kenworth's most popular paint scheme of all time. In fact, truckers like this paint scheme so much; they are still applying it to their new trucks, even if it is not a Kenworth!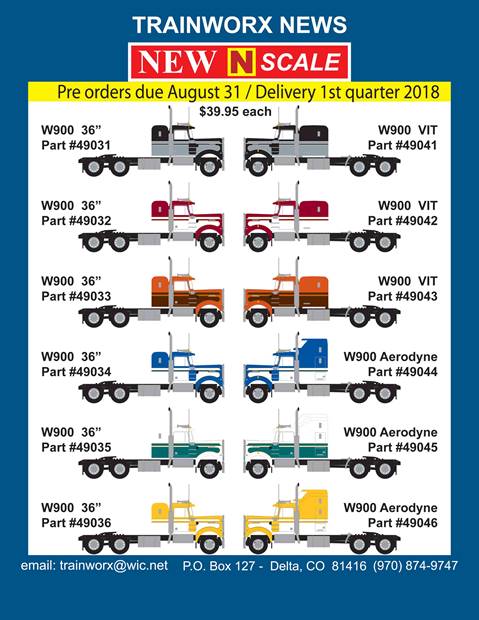 But there is more. Pat also announced the release of the Kenworth K100a in both the Salem and Potomac paint schemes. There will be three different color combinations and two sleeper combinations for the K100a.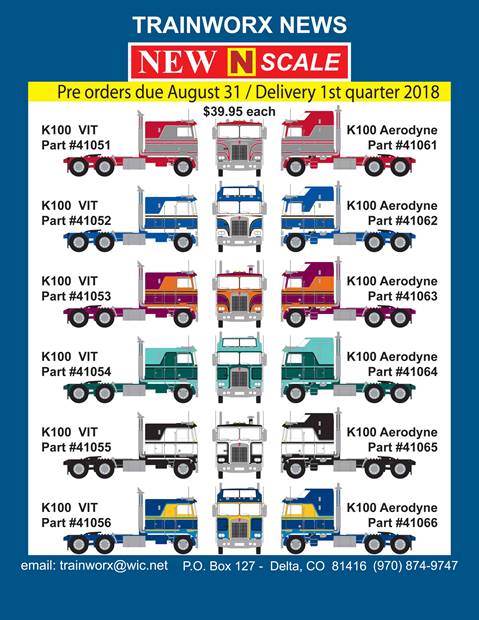 And as a bonus, Pat will be making a K100a to match a "local" truck owner's rig. This truck will feature the prototype truck's paint scheme, but without the business owner's name. This one is simply called the Truck down the street.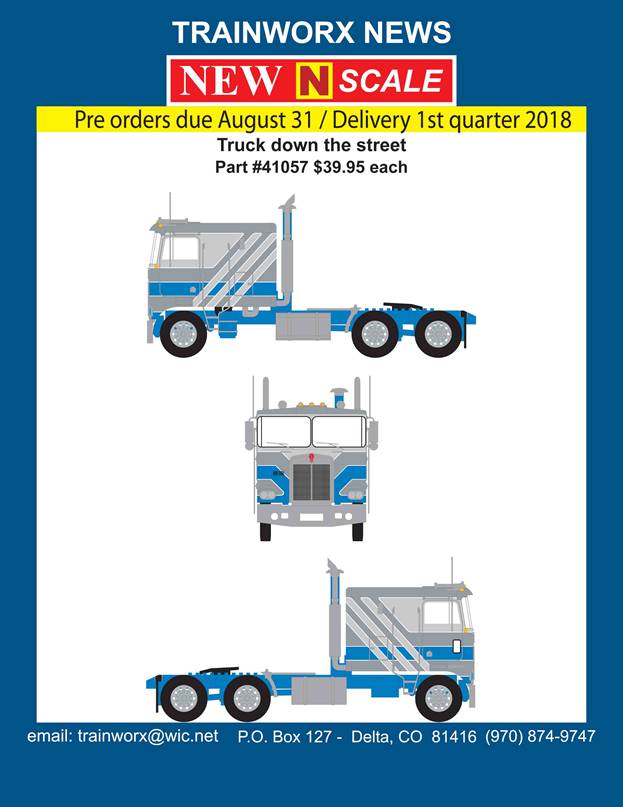 Pre orders for the trucks are due August 31, with delivery expected in the first quarter of 2018. You can also download the official Trainworx flyers for this announcement. Click here for the Kenworth W900a in the Seminole paint schemes. Click here for the Kenworth K100a in the Salem and Potomac paint schemes. And finally, click here for the Truck down the street.
N Scale Convention News
June 23, 2017
Several new vehicle models were on display this weekend at the National N Scale Convention in Pittsburgh, PA.
Showcase Miniatures had cast pewter kits available for a 1961 Chevy pickup. The kit consists of the frame with seat, four wheels, the cab, the pickup box, a separate tailgate, and a vacuum formed windshield.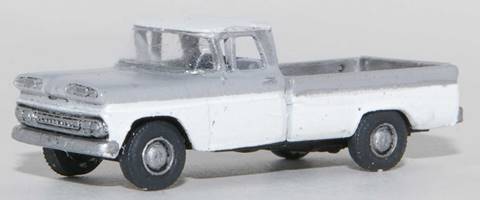 Atlas Model Railroad Company had five pre-production samples of their much anticipated 1973-75 Ford F-100 pickup on display. While the samples were naturally a little rough around the edges, once the tooling is finished and polished, these should be excellent models that will work on layouts or scenes set from the fall of 1972 to today.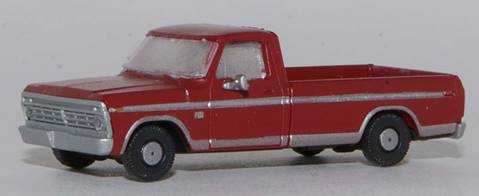 While Trainworx had pre-production samples of some previously announced items on hand, they also had some surprises as well. This 53-feet tri-axle reefer includes new tooling (each axle has its own suspension) which will also work for lift axles on their trucks.

The Timpte grain (commodity) trailer, in which the design work was displayed on a computer screen at last year's convention, was now on display as a pre-production sample. An alternate suspension allows the trailer to be modeled as the very similar Wilson grain trailer.


The biggest surprise at the Trainworx table was a pre-production dry bulk trailer. Note: This trailer was requested last year by convention goers, and Pat responded very positively to those requests!

And finally, the design work for the Freightliner Cascadia was displayed on a computer screen. I think we should be able to expect an announcement for the initial run of Cascadia tractors in the not too distant future.
Trainworx Announces Vintage Fuel Tankers!
May 10, 2017
Pat Sanders of Trainworx has announced a variety of vintage tanker paint schemes for the Peterbilt 350 and Peterbilt 351 tractors to pull. Pre orders are due June 30, with delivery expected in the first quarter of 2018.
The Peterbilt 350 tractors and tank trailers will be available in the five paint schemes shown below: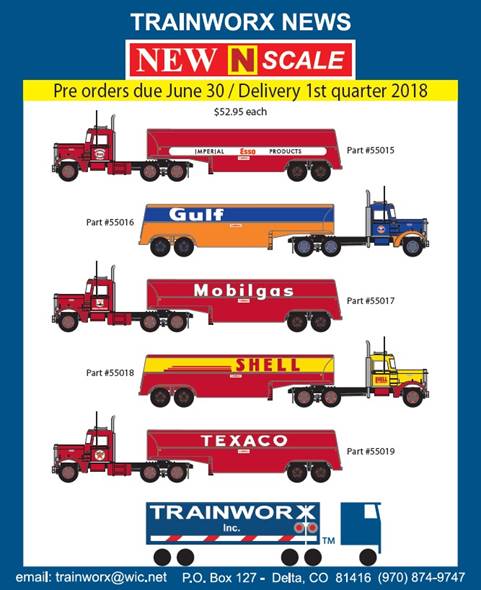 And, the Peterbilt 351 tractors and tank trailers will be available in the six paint schemes shown below: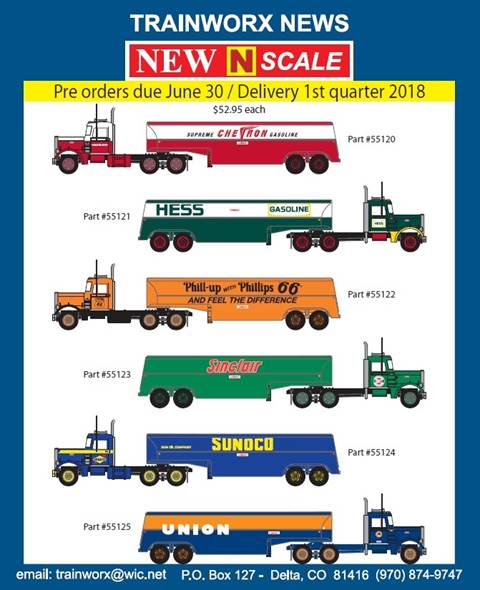 You can also download the official Trainworx flyers for this announcement. Click here for the Peterbilt 350 flyer and click here for the Peterbilt 351 flyer. Please take note of the new Trainworx truck logo on the Peterbilt 350 flyer!
National Train Show News from Portland
August 28, 2015
There was good news from National Train Show in Portland, Oregon for anyone in need of more N scale fire trucks! Athearn announced a rerun of the very popular long wheelbase Ford C pumper in a variety of fire department colors. These models will be painted but not lettered. Pre-order deadline is September 25, 2015 with delivery in July 2016.






Other breaking news from Portland is that Trainworx has the Freightliner Cascadia under development. For some prototype background, Freightliner announced the Cascadia in May 2007 and started taking orders the following month with pre-production prototypes being road tested in July. By August, the first production Cascadia was delivered and they have been rolling out of the Freightliner factory for the past eight years! You don't have to travel very far on an interstate highway these days before coming to the conclusion that the Cascadia has become one of the most common big rigs on the road.
Trainworx Announces FedEx Tractor-Trailers and Vintage Peterbilt 280 & 350 Tractors
August 4, 2015
Pat Sanders of Trainworx announced the Peterbilt 379 and Kenworth T800 tractors in the FedEx paint scheme this morning. In Addition to the tractors, there are seven paint schemes coming for the 53-foot and 28-foot trailers.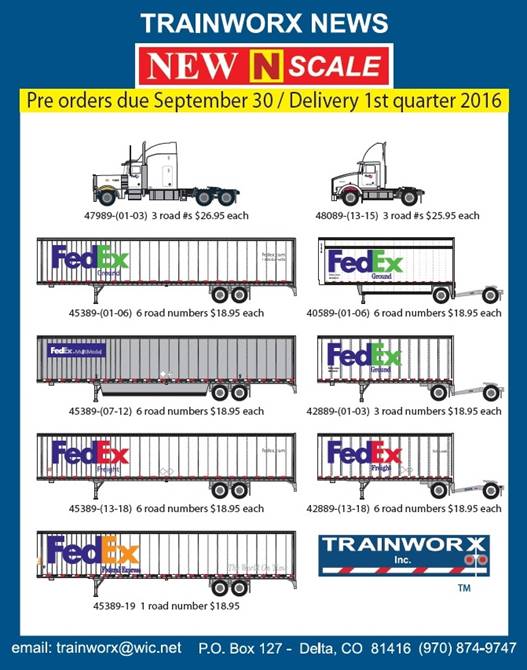 But that was not the only announcement. The "Iron Nose" Peterbilt 250 and 380 has also been announced. This is not the same tractor that was used for the Duel (movie) tanker!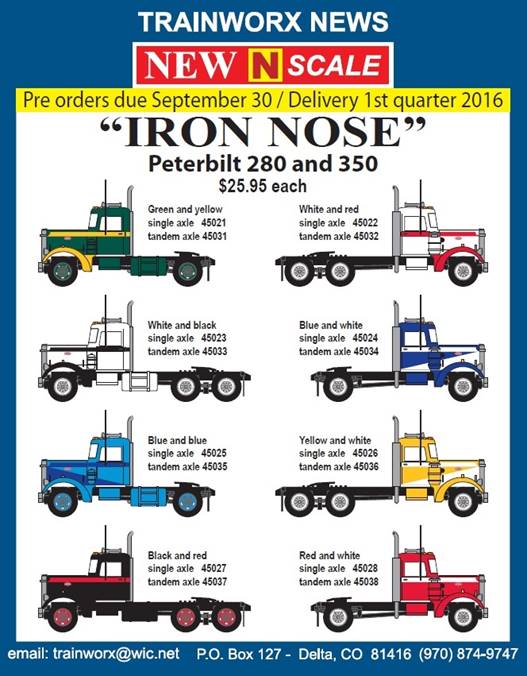 You may view or download the color flyers at these links:
http://www.train-worx.com/15-8fedex.pdf
http://www.train-worx.com/15-8pete350.pdf
More New Trucks and Trailers from Trainworx
July 13, 2015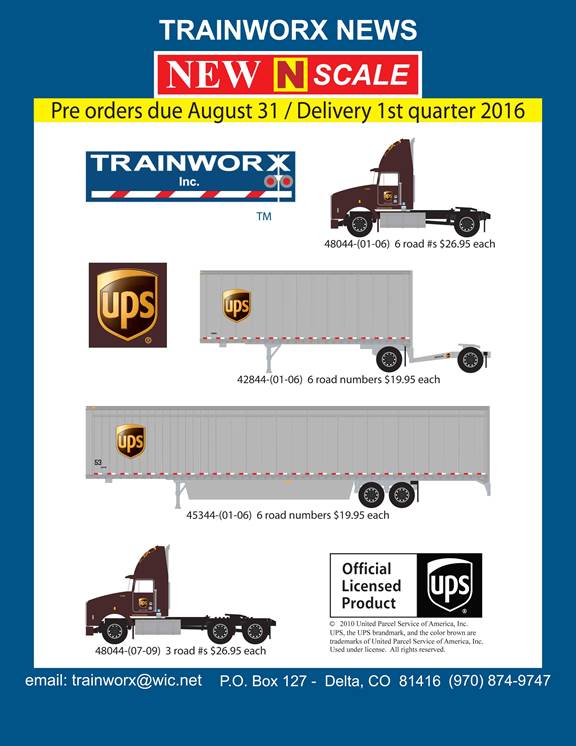 Pat Sanders of Trainworx has announced the next release of trucks and trailers. This is the first release in which the tractors and trailers may be purchased separately. The tractors are Kenworth T800 day cabs that UPS has been purchasing for its growing fleet of alternate fuel vehicles. The 28-ft pup trailers are based on Great Dane trailers that UPS purchased in 2003. The 53-ft trailers are based on the large fleet of UPS Stoughton trailers. Be sure to pre-order to guarantee you will get the trucks and trailers you want!
New N Scale Models by Wiking
July 10, 2015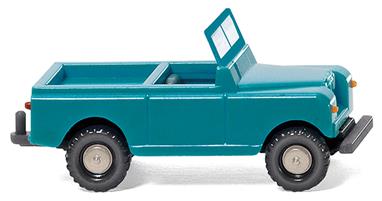 Markus Schiavo has provided a link for Wiking's August 2015 new model. The tooling for the Series 88 Land Rover was revealed in February, 2015 and the first version out is this pale turquoise open top model.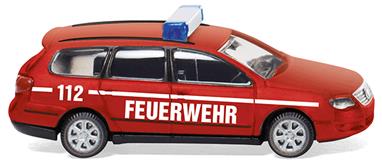 Markus also sent us the link for the August 2015 model upgrade. It is a Volkswagen Passat in a fire service paint scheme. The photos of the models are from Wiking.
Trainworx Announces Peterbilt 379 & Merritt Gold Line 50' Livestock Trailer
June 30, 2015
Pat Sanders of Trainworx announced the ultimate N Scale "Bull Hauler" this morning. This will be a Peterbilt 379 truck tractor with Unibilt sleeper pulling a Merritt Gold Line 50-foot cattle trailer (those fortunate enough to attend the National N Scale Convention in Sacramento, CA got to see the flyer at the link below on Friday, June 26, 2015.)
| | |
| --- | --- |
| Tractor color | Part # |
| Black & Silver | 57930 |
| Burgundy & Silver | 57931 |
| Green & Silver | 57932 |
| Red & Black | 57933 |
| Silver & Burgundy | 57934 |
| White & Blue | 57935 |

Pre orders are due August 31, 2015 with delivery around Dec-Jan.
You can view the color flyer at this link: http://www.train-worx.com/15-7bullhauler.pdf
N Scale Convention News
June 28, 2015
The National N Scale Convention concluded with the Sunday morning manufacturers' breakfast and very few would dispute the claim that the announcement of the new line of Trainworx trucks and trailers was the most significant at the convention. In addition to the four newly tooled injected molded truck tractors with two all new trailers announced on June 16, 2015, when the Swap-A-Rama opened Friday morning Pat Sanders of Trainworx revealed additional models as well as the announcement of the first "regular" release. While the photos of the "test shots" do not do the models justice, we hope they will suffice until the decorated versions of these finely tooled and well detailed trucks and trailers are released. First, below we have an overview of the Trainworx truck display followed by a closer look at some of the individual models. Note that there is a typographical error for the build dates for the Peterbilt 281/351 which went into production in 1954.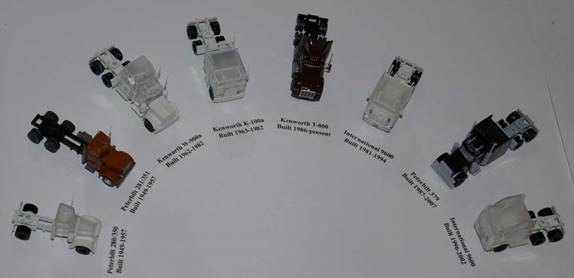 | | |
| --- | --- |
| Trainworx Kenworth K100 with flat top sleeper | Trainworx International 9600 9700/9800 (built 1996-2002) |
| Trainworx Peterbilt 280/350 conventional | Trainworx Kenworth W900 with AERODYNE sleeper |
| Trainworx T800 with day cab | Trainworx International 9600 (built 1981-1994) |
Next we have an overview of the new trailers and truck beds followed by a closer look at some of the individual models.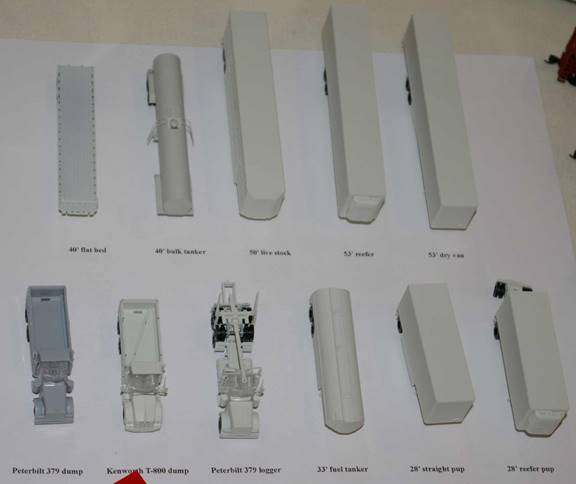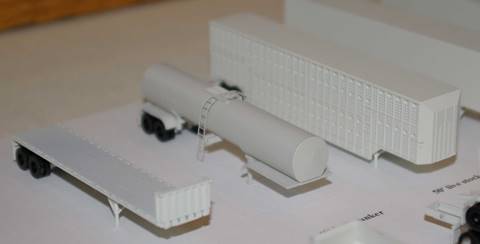 From left to right, Trainworx 40-ft flat bed, 40-bulk liquid and 50-ft livestock trailers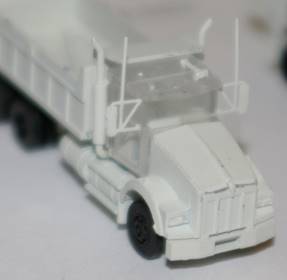 Trainworx T800 configured as a dump truck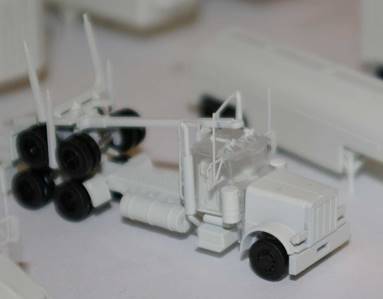 Trainworx Peterbilt 379 configured as a logging truck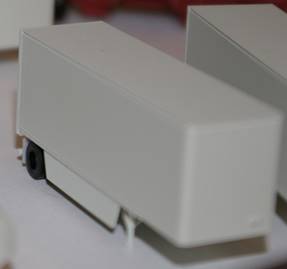 Trainworx 28-ft pup trailer with skirts
Matthew Young of Wheels of Time displayed this cast resin crawler tractor.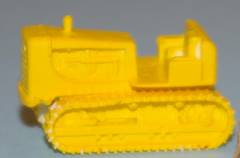 Be sure to check the Wheels of Time website during the month of July to find out more and possibly win a crawler tractor.
And yet another vehicle announcement came at the manufacturers' breakfast when Peter Harris of N-Scale Kits said he hopes to have another auto carrier trailer available for next year's convention in Kansas City, Kansas!
New Trucks from Trainworx
June 16, 2015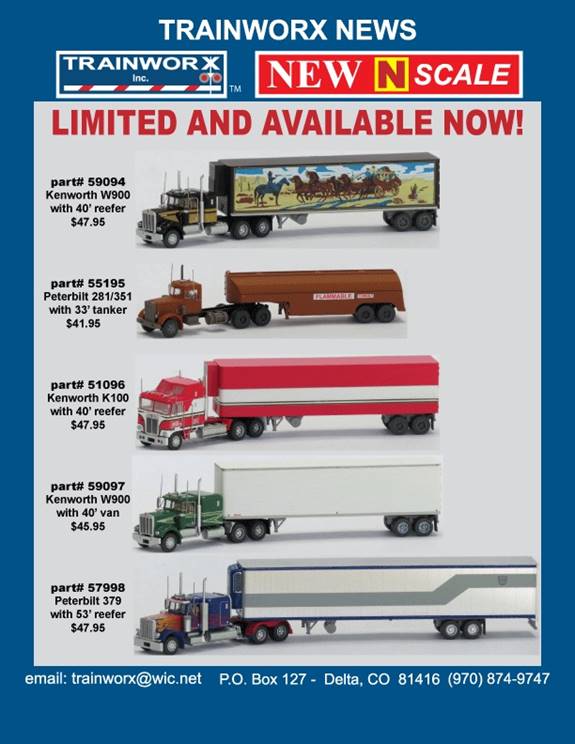 Pat Sanders of Trainworx has announced five new tractor-trailer models based on movies and TV shows.
#59094 - Kenworth W900 with a 40-ft reefer decorated as the truck in Smokey and the Bandit

#55195 is a Peterbilt 281/351 with 33-ft tank trailer decorated as the truck in Duel

#51096 - Kenworth K100 with 40-ft reefer decorated as the truck in BJ and the Bear

#59097 - Kenworth W900 with 40-ft dry van decorated as the truck in Movin' On

#57998 - Peterbilt 379 with 53-ft reefer decorated as the truck in Transformers (Optimus Prime)
The Peterbilt 281/351 went into production around 1954 and the Peterbilt 379 was produced up until 2007. Pat should get a lot of mileage from these trucks!
Previous Industry News - 2014 2013
Contact: info@nscalevehicles.org