Industry News
National Train Show News from Portland
August 28, 2015
There was good news from National Train Show in Portland, Oregon for anyone in need of more N scale fire trucks! Athearn announced a rerun of the very popular long wheelbase Ford C pumper in a variety of fire department colors. These models will be painted but not lettered. Pre-order deadline is September 25, 2015 with delivery in July 2016.






Other breaking news from Portland is that Trainworx has the Freightliner Cascadia under development. For some prototype background, Freightliner announced the Cascadia in May 2007 and started taking orders the following month with pre-production prototypes being road tested in July. By August, the first production Cascadia was delivered and they have been rolling out of the Freightliner factory for the past eight years! You don't have to travel very far on an interstate highway these days before coming to the conclusion that the Cascadia has become one of the most common big rigs on the road.
Trainworx Announces FedEx Tractor-Trailers and Vintage Peterbilt 280 & 350 Tractors
August 4, 2015
Pat Sanders of Trainworx announced the Peterbilt 379 and Kenworth T800 tractors in the FedEx paint scheme this morning. In Addition to the tractors, there are seven paint schemes coming for the 53-foot and 28-foot trailers.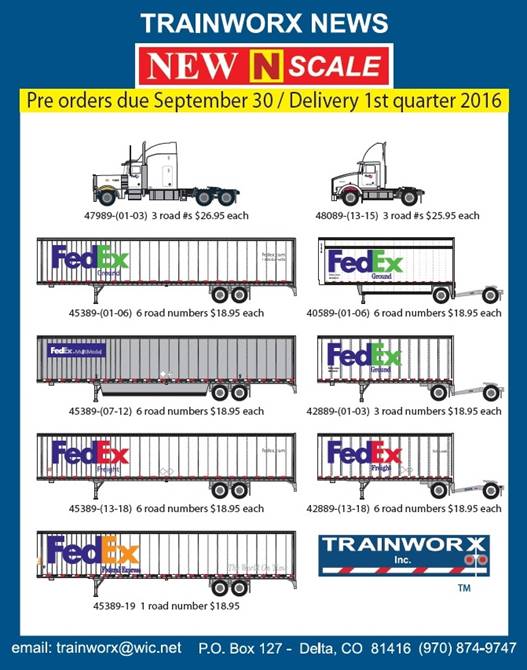 But that was not the only announcement. The "Iron Nose" Peterbilt 250 and 380 has also been announced. This is not the same tractor that was used for the Duel (movie) tanker!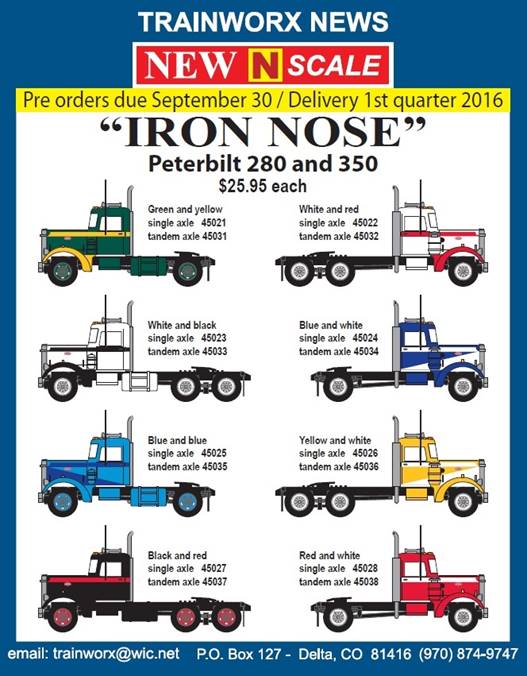 You may view or download the color flyers at these links:
http://www.train-worx.com/15-8fedex.pdf
http://www.train-worx.com/15-8pete350.pdf
More New Trucks and Trailers from Trainworx
July 13, 2015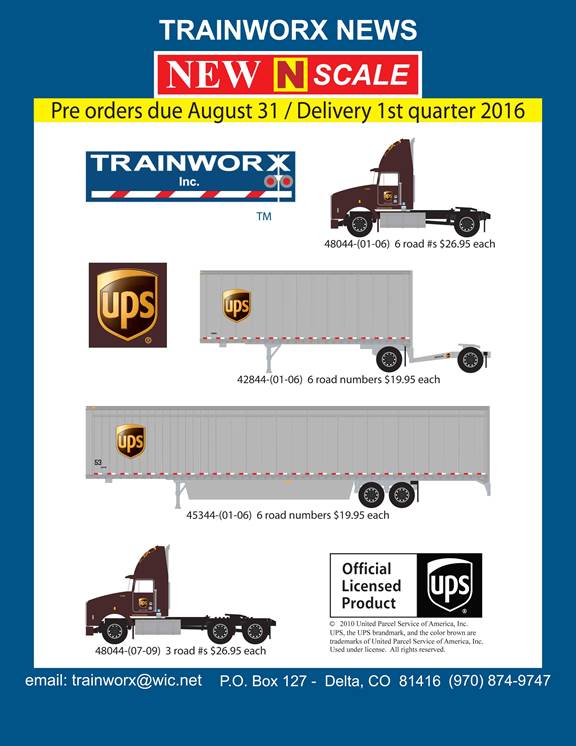 Pat Sanders of Trainworx has announced the next release of trucks and trailers. This is the first release in which the tractors and trailers may be purchased separately. The tractors are Kenworth T800 day cabs that UPS has been purchasing for its growing fleet of alternate fuel vehicles. The 28-ft pup trailers are based on Great Dane trailers that UPS purchased in 2003. The 53-ft trailers are based on the large fleet of UPS Stoughton trailers. Be sure to pre-order to guarantee you will get the trucks and trailers you want!
New N Scale Models by Wiking
July 10, 2015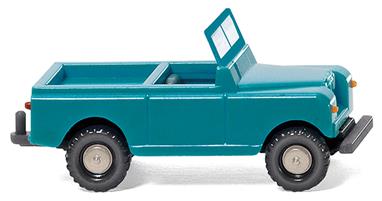 Markus Schiavo has provided a link for Wiking's August 2015 new model. The tooling for the Series 88 Land Rover was revealed in February, 2015 and the first version out is this pale turquoise open top model.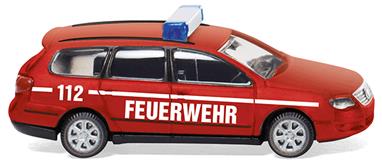 Markus also sent us the link for the August 2015 model upgrade.  It is a Volkswagen Passat in a fire service paint scheme. The photos of the models are from Wiking.
Trainworx Announces Peterbilt 379 & Merritt Gold Line 50' Livestock Trailer
June 30, 2015
Pat Sanders of Trainworx announced the ultimate N Scale "Bull Hauler" this morning. This will be a Peterbilt 379 truck tractor with Unibilt sleeper pulling a Merritt Gold Line 50-foot cattle trailer (those fortunate enough to attend the National N Scale Convention in Sacramento, CA got to see the flyer at the link below on Friday, June 26, 2015.)
| | |
| --- | --- |
| Tractor color | Part # |
| Black & Silver | 57930 |
| Burgundy & Silver | 57931 |
| Green & Silver | 57932 |
| Red & Black | 57933 |
| Silver & Burgundy | 57934 |
| White & Blue | 57935 |

Pre orders are due August 31, 2015 with delivery around Dec-Jan.
You can view the color flyer at this link: http://www.train-worx.com/15-7bullhauler.pdf
N Scale Convention News
June 28, 2015
The National N Scale Convention concluded with the Sunday morning manufacturers' breakfast and very few would dispute the claim that the announcement of the new line of Trainworx trucks and trailers was the most significant at the convention. In addition to the four newly tooled injected molded truck tractors with two all new trailers announced on June 16, 2015, when the Swap-A-Rama opened Friday morning Pat Sanders of Trainworx revealed additional models as well as the announcement of the first "regular" release. While the photos of the "test shots" do not do the models justice, we hope they will suffice until the decorated versions of these finely tooled and well detailed trucks and trailers are released. First, below we have an overview of the Trainworx truck display followed by a closer look at some of the individual models. Note that there is a typographical error for the build dates for the Peterbilt 281/351 which went into production in 1954.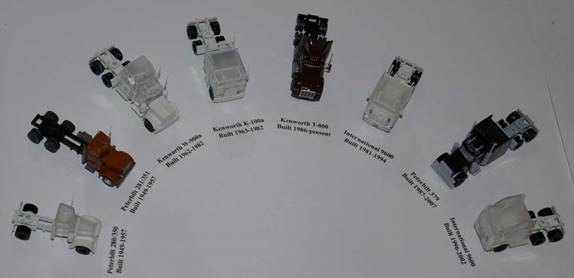 | | |
| --- | --- |
| Trainworx Kenworth K100 with flat top sleeper | Trainworx International 9600 9700/9800 (built 1996-2002) |
| Trainworx Peterbilt 280/350 conventional | Trainworx Kenworth W900 with AERODYNE sleeper |
| Trainworx T800 with day cab | Trainworx International 9600 (built 1981-1994) |
Next we have an overview of the new trailers and truck beds followed by a closer look at some of the individual models.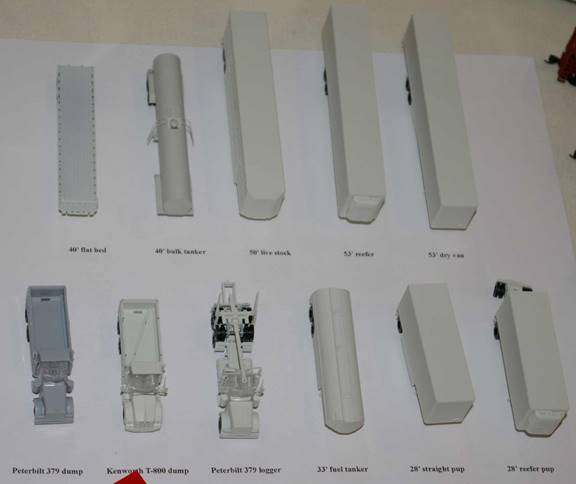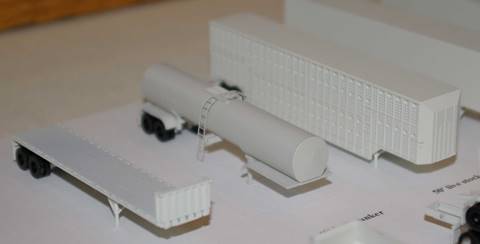 From left to right, Trainworx 40-ft flat bed, 40-bulk liquid and 50-ft livestock trailers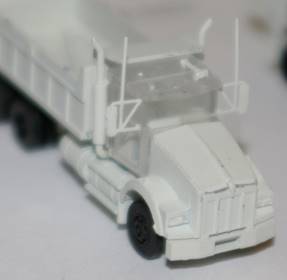 Trainworx T800 configured as a dump truck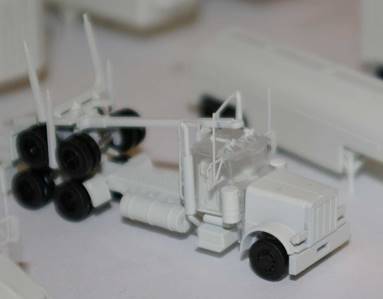 Trainworx Peterbilt 379 configured as a logging truck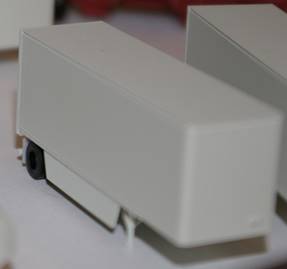 Trainworx 28-ft pup trailer with skirts
Matthew Young of Wheels of Time displayed this cast resin crawler tractor.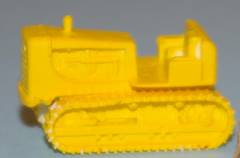 Be sure to check the Wheels of Time website during the month of July to find out more and possibly win a crawler tractor.
And yet another vehicle announcement came at the manufacturers' breakfast when Peter Harris of N-Scale Kits said he hopes to have another auto carrier trailer available for next year's convention in Kansas City, Kansas!
New Trucks from Trainworx
June 16, 2015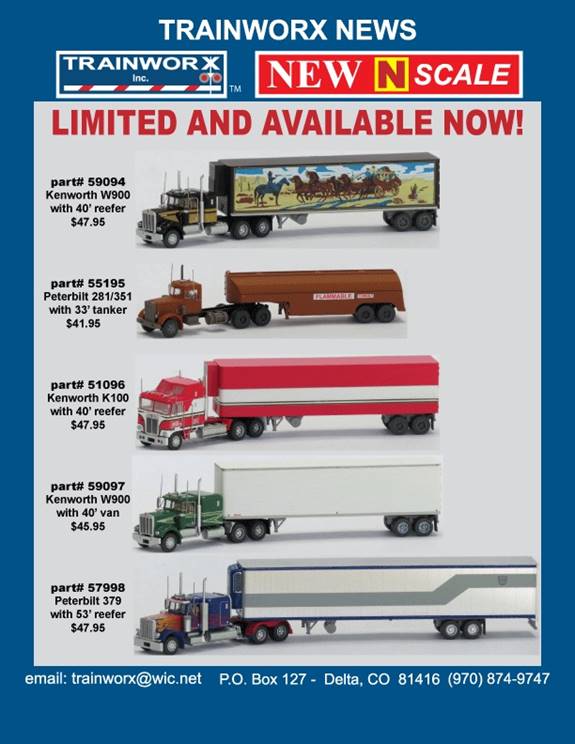 Pat Sanders of Trainworx has announced five new tractor-trailer models based on movies and TV shows.
#59094 - Kenworth W900 with a 40-ft reefer decorated as the truck in Smokey and the Bandit

#55195 is a Peterbilt 281/351 with 33-ft tank trailer decorated as the truck in Duel

#51096 - Kenworth K100 with 40-ft reefer decorated as the truck in BJ and the Bear

#59097 - Kenworth W900 with 40-ft dry van decorated as the truck in Movin' On

#57998 - Peterbilt 379 with 53-ft reefer decorated as the truck in Transformers (Optimus Prime)
The Peterbilt 281/351 went into production around 1954 and the Peterbilt 379 was produced up until 2007. Pat should get a lot of mileage from these trucks!
Previous Industry News - 2014 2013
Contact: info@nscalevehicles.org