Industry News
Classic Metal Works 1953 Ford Courier sedan delivery
October 22, 2013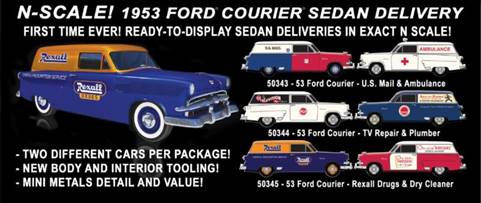 Classic Metal Works has officially announced the 1953 Ford Courier Sedan Delivery in N scale. Many online hobby shops have had reservations for this model open since the middle of August. And like all new CMW releases, the number of pre-orders will determine the size of the production run. So, to quote the CMW official announcement; "don't procrastinate!"
Wiking announces a new release for December
October 18, 2013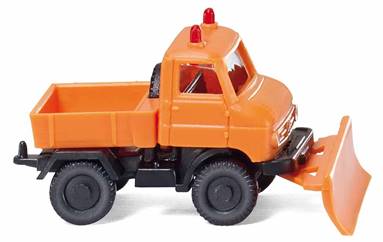 Markus Schiavo has provided the link to Wiking's new N scale model for December release. This time the Unimog U 411 will be equipped with a snowplow, which of course is very appropriate for the beginning of winter.
Wheels of Time announces new paint schemes for the C 49 bus
October 10, 2013















Matthew Young of Wheels of Time announced the C 49 bus (winner of the New N Scale Vehicle of the Year Award in 2009) will be released in 15 new paints. More information is available on the Wheels of Time web site. Note that many of the buses will be available in multiple numbers to assist you in acquiring a fleet!
N Scale Models by Wiking
September 13, 2013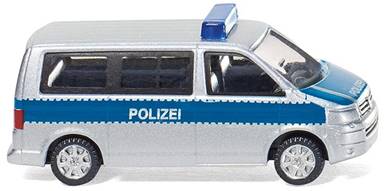 Wiking has announced two N scale models for their October 2013 release.  0935 05 is a Volkswagen T5 GP Multivan in police paint scheme with blue light bar.  0982 40 is a Mercedes-Benz NG series ARAL semi-tractor with tank trailer.  And, a special thank you goes out to Markus Schiavo for providing the links to the new announcements on Wiking's web site.
N Scale Models by etch IT
August 21, 2013
A German model manufacturer known as etch IT is producing new N scale truck models based on the IFA W50. Three versions of this medium duty truck will be available. The dump truck with a working dump bed comes in olive, the fuel delivery truck is in a red, yellow and silver paint scheme and the cab and chassis comes in blue, and is ready for the modeler to install the bed of their choice. The assembled models are constructed with a combination of rapid prototyping printed parts, and etched metal parts for all of the fine detail. Thanks to Markus Schiavo we have a link to the announcement of the etch IT IFA W50 as it appears on 1zu160.net. Additional models from this manufacturer can be viewed on the etch IT home page. And here's some information about the prototype, all East German vehicle manufacturers were part of IFA, Industrieverband Fahrzeugbau, which translates to Industrial Association for Vehicle Construction.






Atlas announces new paint schemes for 1993 Ford Explorer
August 8, 2013
The popular 1993 Ford Explorer is coming in Amtrak, Canadian National, Canadian Pacific, Conrail, KCS, NJ Transit and Norfolk Southern paint schemes. Orange, white and yellow unlettered versions will be included in this release. Expected delivery is First Quarter of 2014. More information can be found at Atlas Model Railroad Co.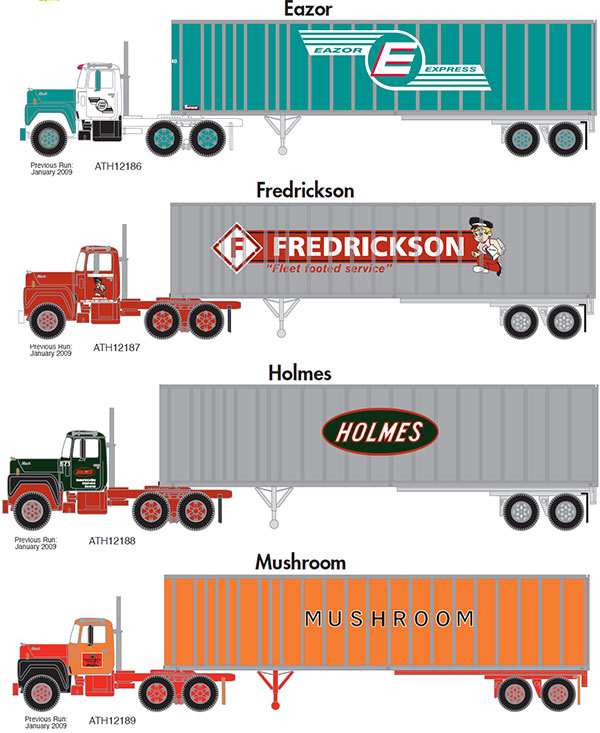 Athearn Announces Mack R Truck Tractor & 40' Exterior Post Trailer Combinations
July 30, 2013
Athearn has announced a run of Mack R truck tractors and 40' exterior post trailers in the paint schemes shown above. Delivery is expected in March 2014.
Showcase Miniatures Builders Pack
July 25, 2013
A Builder's Pack of two (2) chassis only trucks is now available. The tandem differential can fit anywhere on the cut-to-length frame for you to build your own version of work truck. Optional Medium Duty Wheels are available separately to customize these trucks.
Classic Metal Works announces another survey
July 18, 2013
Bill Giacci of CMW Holdings, Ltd. posted a corrected link to the latest Classic Metal Works survey on the N Scale Vehicle Association's Yahoo Group early this morning. The original survey forced modelers to answer the questions for both the HO and N scale vehicles. The corrected link directs those who wish to complete the survey to choose either HO or N scale, and then proceed to answer the scale specific questions.
The survey is for medium duty trucks, and while the N scale questions are limited to the Ford F-Series and the International Harvester B-Series trucks from the late 1950s into the 1970s, there is also an opportunity to write-in the truck that you would most like to see. This is a great opportunity to participate in the manufacturer's decision making process!
Wiking New Models for August
July 18, 2013
Links to the Wiking new models page for August have again been provided by Markus Schiavo. The Unimog U 411 model will appear as a fire brigade unit, and the Lanz Bulldog farm tractor returns in a new color scheme. More information is available at Wiking's New Models page.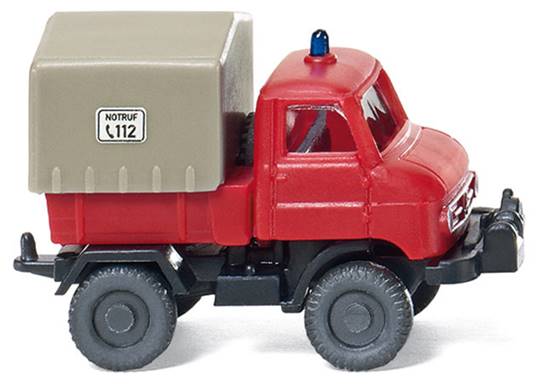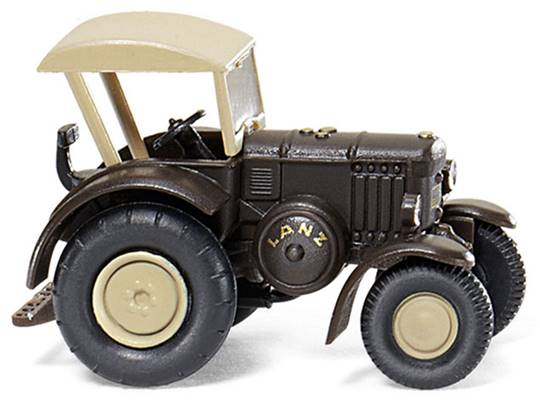 Photos by Wiking
Notes from the 2013 National N Scale Convention
June 30, 2013
The Manufacturers' Breakfast was the final official event of the National N Scale Convention in Milwaukee, WI. All of the manufacturers present were given the opportunity to speak to the group of eager modelers early Sunday morning. Only the manufacturers that specifically mentioned N scale vehicle models are listed below, and they are in the order in which they addressed the breakfast crowd.
Matthew Young of Wheels of Time announced that the Mack C 49 transit motor coach would be released with new paint schemes. The Mack C 49 was the winner of the Fifth Annual New N Scale Vehicle of the Year Award.
Dave Ferrari of DeLuxe Innovations announced the 40-foot container chassis would be available in a number of new paint schemes. New paint schemes for the containers that fit on these chassis are also coming soon.
Peter Harris of N Scale Kits announced that the initial sales of the single axle auto carriers at the convention had gone very well.
Neal Carnaby of Neal's N Gauging Trains announced that the 1930s Ford coupe and sedan, the 1930s Chevrolet sedan and the 1930s Plymouth coupe are now available, as well as a Harley and a dirt bike. Neal added that the 1958 Impala without the continental kit, which was produced at Peter Harris' request for the N Scale Kits tandem axle auto carriers, has been very popular. Neal went on to elaborate that since the continental kits were a dealer applied option, they would not be appropriate on the cars leaving the Van Nuys, California assembly plant. Neal is also working on bringing a Model T etched brass kit back into production. Neal's final vehicle announcement was that the long out of production cast metal school bus would be returning as a cast resin model.
Showcase Miniatures releases new cabover truck tractor
June 28, 2013
Walter Vail has announced that two new "F" Type cab over engine semi-tractors have been released. Model #42 is a day cab and model #43 is a sleeper. The models appear to be based on the Ford COE introduced in 1979. A mandrel for forming clear plastic windows is included with the cast metal kits. Both models can be ordered direct from Showcase Miniatures, and suggestions for using the mandrel for forming the windows can also be found on Showcase's web page.
N Scale Kits to produce another auto carrier trailer
June 19, 2013

Peter Harris of N Scale Kits has informed us that the etched brass frets for this single axle auto trailer have arrived! The prototype trailer ran on the New York Central and Milwaukee Road FlexiVan systems and on Milwaukee Road flat cars. Most shipments were Plymouth Valiants or Hudson sedans and station wagons. The decks were fixed and did not move hydraulically, so autos were loaded by ramp onto the trailers. The autos were then tied down; there were no side restraints on the upper deck!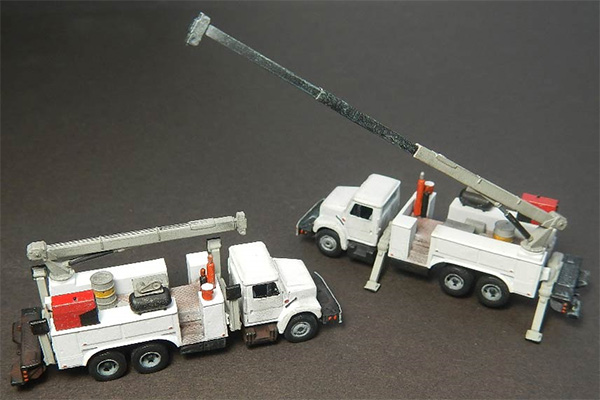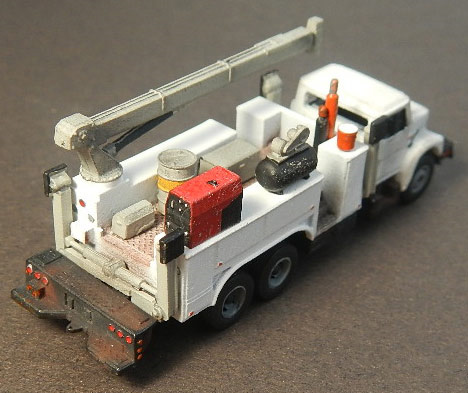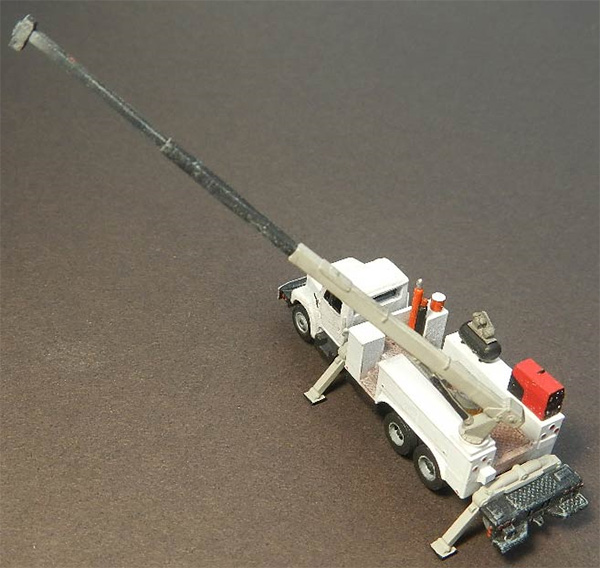 Showcase Miniatures to release N scale model #41
June 4, 2013
Showcase Miniatures N scale model #41 is a railroad Maintenance of Way truck based on an IH design. Photos are courtesy of Showcase Miniatures. The kit is now available, and can be ordered direct from Showcase Miniatures (http://www.showcaseminiatures.net/vehicles.html).
Showcase Miniatures will also offering replacement wheel and tire sets (enough for a 10-wheel truck) as a 10-hole alloy set and a cast spoke set.  The wheels will fit on a 0.10 inch hub.
News from Germany
June 1, 2013
Markus Schiavo has once again provided links to new N scale vehicle models from Germany. The Unimog U 411 model that was announced by Wiking at Nuremberg in February is scheduled for initial release in June. More information is available at Wiking's New Releases page.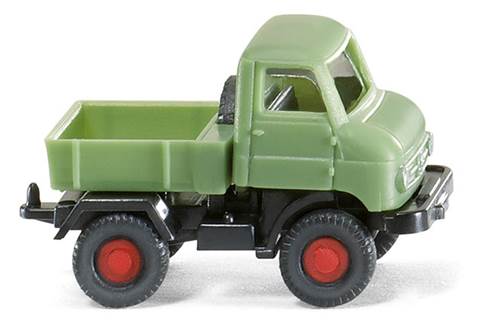 Also announced for June release is the Volkswagen Tiguan in Night Blue Metallic. More information is available at Wiking's Model Upgrades page.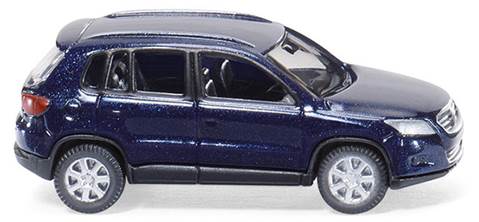 Photos by Wiking, producers of N scale vehicle models since 1969
And for those wanting to make the two-wheeled vehicles on your layout safer and more noticeable, check out these on the
spur-N.com web site
from
BICYC-LED
.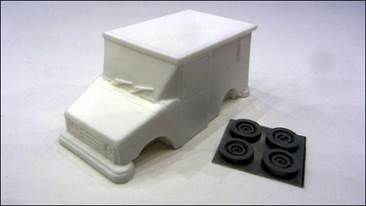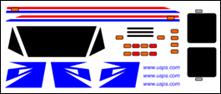 NZT Products will be delivering the mail (truck)
March 30, 2013
NZT Products, LLC is pleased to announce the release of ND-023: N Scale Grumman LLV US Postal Service Mail Delivery Truck Kit. This is a faithful N Scale replica of the ubiquitous trucks found all over the US, featuring a highly-detailed, accurate casting; kit comes with decals. MSRP is $8.00. Please see the NZT Products website (http://nztproducts.com/nd-023.htm) for more information.
News from Nuremberg
February, 3, 2013
Spielwarenmesse (International Toy Show) 2013 has concluded in Nuremberg, Germany with an announcement of interest to N scale vehicle modelers and collectors. Wiking attended the show for the first time in a decade, and their N scale announcement was an all-new model of the Unimog U 411. The Unimog is an all-purpose utility vehicle that was first offered in the U.S. as a farm tractor in 1957. The Unimog differed from other farm tractors in that it could also be used to pull a trailer to transport crops or livestock from farm to market at speeds significantly faster than conventional farm tractors.
Not necessarily from Nuremberg, but many of the European manufacturers of N scale vehicles have published their plans for 2013. Markus Schiavo has provided links to the announcements of pending N scale vehicle releases, and what follows is a summary of the models that are most likely to be of interest to North American modelers.   
Busch has their 2013 catalog (9.5 MB) available for downloading, and on page 15, you will find several new combinations of models. For the first time, the 1980s Volkswagen Passat wagon (Quantum in North America) is paired with a sibling; you will get one orange and one green Passat in the same package. Other new combinations will be the Mercedes C Class and M Class in "airport design" paint schemes and a red Audi A4 sedan with a yellow Smart Fortwo.
Herpa has another release of their very popular Mini Coopers coming this year, there will be one red and one white Mini in the next 2-pack. Herpa is also offering a white BMW E46 and a black Mercedes A Class in a 2-pack.
Lemke miNis have a number of new models in development, but the ones of greatest interest to the North American modeler will be Volkswagen 1600 in three versions, the Notchback, Fastback and Squareback. All of the Lemke models can be found in the 2013 version of the Lemke Collection. (3.2 MB)
And finally from Rietze, a new version of the Mercedes-Benz Citaro transit bus is expected this spring. While this prototype is not likely to be found in the United States, there are some in Mexico.

NZT Products enters the N scale vehicle market with a hit
January 19, 2013
David K. Smith of NZT Products announced that restocks of the new N scale school bus and crawler kits are on their way to dealers. Initially they were available from MB Klein and Stonebridge Models, and they were an instant sell-out! See the NZT Blog for up to date information.
Walthers to distribute the TomyTec line of 1:150 scale models
January 17, 2013
[From Wm K. Walthers Inc. E-Update Newsletter ]
"We are pleased to announce that Walthers is now the exclusive distributor of TomyTec products in North America. TomyTec specializes in high quality N-Scale hobby products including model trains, streetcars and modern light rail vehicles, structures and more. More information on this exciting new line of N-Scale products will be coming soon! Here is a sample of what the TomyTec line has to offer"
Not specifically mentioned in the E-Update Newsletter, the TomyTec line includes a large number of 1:150 scale model vehicles. Successfully mixing 1:150 scale vehicles with 1:160 vehicles tends to be a rather subjective matter. Visit our N-Gauge Vehicles page to learn more about the 1:150 scale models, and how they look next to 1:160 scale models.
Showcase Miniatures resumes production
January 9, 2013
Joe Warren of Showcase Miniatures announced the resumption of the Showcase Miniatures line last November, and the first new products are now available. You can view the latest news on availability on their web site.
Contact: info@nscalevehicles.org